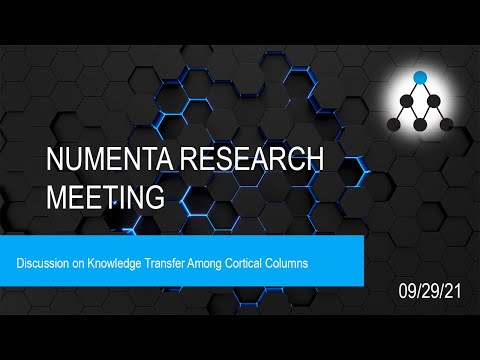 Marcus Lewis frames the problem of knowledge transfer among cortical columns in the Thousand Brains Theory and explores potential solutions. He first explains how, at a high level, Numenta's model tackles this problem by having cortical columns communicate a description of an object horizontally through lateral connections.
Marcus then explains how this "horizontal description of an object" mechanism suggests a different mindset for the Thousand Brains Theory. Influenced by Douglas Hofstadter's book "Gödel, Escher, Bach," he states that a cortical column fundamentally needs to learn to represent descriptions of objects, so that, given a description of a novel object, it can make predictions and recognize that object no matter where the description comes from. Secondly, the cortical column can memorize those descriptions, but this object-memorizing functionality is secondary to being able to describe an object in the first place.
Jeff then dives into what information about the object is needed for columns to communicate and vote on what they're sensing. He makes the case that columns communicate locally through lateral connections in the neocortex and work in parallel with each other. The team then asks questions and discusses.